I love painting with watercolors. I love painting with watercolors wherever and whenever I can so much, I bought a travel kit. There's no shortage of portable watercolor kits out there. Although, there is a shortage of potable watercolors, which is probably a good thing. I have to imagine viridian doesn't taste too good.
Watercolor, Watercolor Everywhere
When it came time to drop some coin on a portable watercolor kit, aka a "field set," I knew what I wanted:
something small
something self-contained
something waterbrush friendly
something with good quality, bright colors.
Meet the Sakura Koi Watercolor Field Sketch Set
The Sakura Koi 12 Color Watercolor Field Sketch Set hit all checked all of the boxes listed above.
(…OK, so they aren't really boxes, but you know what I mean)
This line of watercolor kits was designed to be used on the go. Perfect!
Now, at first I was leaning more towards the 24 color set. But, being portable won the day, so I went with the 12 color set.
Watch my video review below, followed by my final thoughts and scores.
Video Review: Sakura Koi Watercolor Field Sketch Set
If the embed doesn't work, watch the video on YouTube.
You can see me use my Sakura Koi set to paint one of my Inktober cartoons! Speaking of, all of my Inktober 2017 cartoons are for sale in my Etsy shop!
Let's Paint
Don't have time to watch a video? Here's a written review!
I love my Sakura Koi Watercolor Field Sketch Set.
(Yes, that's a mouthful, but hey, SEO y'all).
When closed, my Field Sketch Set is only slightly bigger than a deck of playing cards (that's regular cards, not a Magic Commander deck or something). The compact size means it will fit in my pocket or backpack without a problem. Objective met! I wanted something portable.
Everything you need to paint with watercolors is inside: 12 colors, a waterbrush, mixing palettes, and a sponge.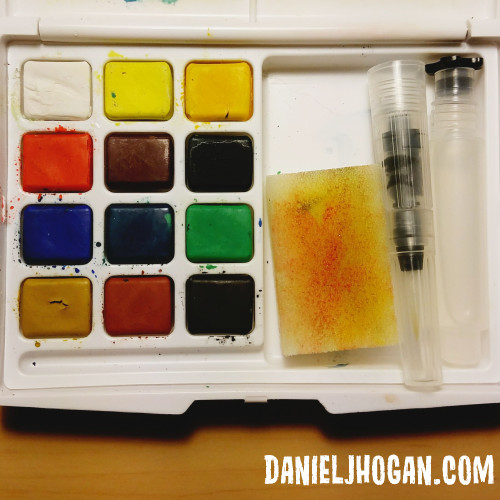 The paints are bright and colorful. I have noticed they tend to go on a bit thicker than other paints I've used (especially the red, "vermilion hue"). This is fine, it just takes a little practice.
As I said in the video, the included waterbrush is OK. It's perfectly fine, but I like my Pentel Aquash waterbrushes a bit more. However, if  I want to be 100% portable and compact, I have to use the included brush.
The sponge works well enough for cleaning my brushes between colors, but I prefer paper towel or a napkin. Still, it works, and it's reusable.
My only real complaint is the glue used to secure the paints to the tray. Several of the colors have popped loose and rattle around during travel.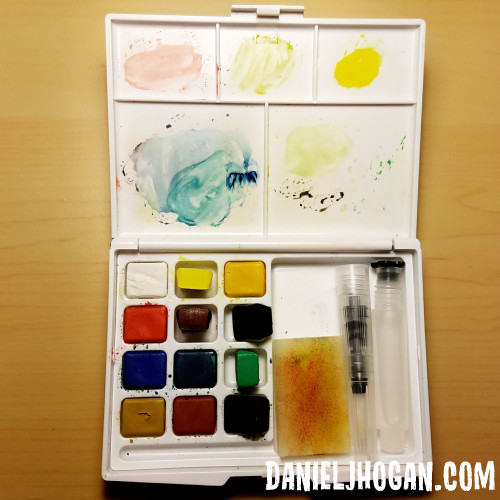 This means I always have to put them back in place before painting. I plan on fixing this problem myself, but it is a bit annoying. It's not a deal breaker mind you, and probably just happened to the unit I got.