I write freelance articles and web content (including copy for websites). I also write audio scripts, blogs, flash fiction, novels, and short stories. I can write serious or silly, depending on what the project requires. When it comes to the silly side, I can write humor for an all ages audience as well as adults (example: for Clattetron, I try to keep the writing and comics 'safe for work' and more or less 'PG-13'.)
Freelance Articles
Scripts
I wrote all of the audio scripts for the Magic of Eyri Podcast, and all of the comedy sketch scripts for Ginger and the Geek. When I record a screencast, I write the script as well. I also write scripts for my comic strips–although some require more writing than others.

Blogs
My humor writing has moved to Clattertron, and I try to do at least one humor post a week. I also have a reoccurring feature called Amazon Enigmas, where I put a humorous spotlight on some of Amazon's quirky items.
Notable blog posts for Clattertron:
I write all of the blog entries on this website and I also had a blog, Geek Speak, for Ginger and the Geek.
Notable blog series for Geek Speak:
I also teach an adult education class on WordPress and blogging for the Michigan State University Alumni Association Evening College (want to learn WordPress? I am available for hire as a tutor).
Guest Blogs for other websites
Columns
Reviews
Flash Fiction
I write flash fiction stories (no more than 500 words), some of which are inspired by my photographs. These short-short stories act as a fun, creative writing exercise.  I write them quickly and just go with the flow.
A flash fiction story I wrote will be included in the upcoming Tales Out of Miskatonic University anthology (eventually). Read all about in my blog post.

Novels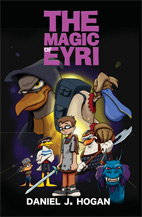 ISBN: 978-0615145280
The Magic of Eyri – A satirical fantasy novel I wrote and self-published in 2007. Self-publishing a novel was quite the experience, as I had to do all of the publishing tasks myself. This meant teaching myself desktop publishing, including how to format a book for print, designing the front and back cover, and promoting the novel.
You can read the first four chapters for free if you wish.
In the spring of 2009, I began producing a free audio podcast version of The Magic of Eyri.  I do most of the voice acting myself. I would like to have the novel version republished by a traditional publisher at some point (after I give it another edit or two).
Riddle of the White Gun – In November 2011, I finished the first draft of a new novel, Riddle of the White Gun. It is actually the third version of a novel I started in 2008 (Rome wasn't built in a day).
Riddle of the White Gun is a humorous-spaghetti-Western-urban-steampunk-fantasy. This blog post will explains things a bit. I am currently editing the draft, and I plan to have a final draft ready by the end of December 2011.
I will not self-publish this novel. My plan is to try and find an agent and go the 'traditional' route.
Short Stories
I enjoy writing short stories and try to keep writing them whenever I'm inspired.  I have yet to sell a short story and I have the rejection letters to prove it.  But, that doesn't stop me from trying.  I write all kinds of short stories, including flash fiction stories that are under 1,000 words.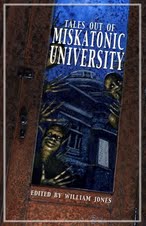 I don't have an excerpt here due to contractual obligations. The premise was to write a piece from the view of someone who attended the fictional university created by horror writer, H.P. Lovecraft.  I took a more humorous route and had a lot of fun writing my entry, which involved a student who attended MU on a sports scholarship who was not directly involved with any of the crazy events going on.
~~~~
Big Water (about 4,000 words). A Lake Superior inspired horror piece I submitted to an upcoming Lovecraft collection, High Seas Cthulhu 2. As of 6/2011 I have not heard if the piece will be included or not (cross your fingers!). This story is about a podcaster experiencing  strange events in Michigan's Upper Peninsula.
~~~~
Slow and Steady (about 3,900 words, unpublished). A Steampunk retelling of the Tortoise and the Hare fable.  It involves a race between two inventors. One is an old owl woman named Theena (along with her apprentice, Phillip the duck) and the other is a mysterious cormorant man named Count Bodell.
Each has a racing machine of their own design, Theena's a steam-powered tortoise and the Count a rabbit machine powered by a battery with mysterious origins.
~~~~
A Queen's Tale (about 10,000 words, unpublished).  This story is a humorous retelling of the fairy tale, Rumpelstiltskin.  Written in First Person point of view, it follows the misadventures of Agnes as she rises from being a miller's daughter to Queen.
After her father claims she can spin straw into gold (he hasn't been the same since the cow kicked him in the head), Agnes is held captive by the King and forced to make good on her father's claims.
Aid comes to her in the form of a small and smelly imp who offers to help–for a price.  After promising her first-born to the imp, Agnes realizes she needs to rid herself of this menacing creature.
-
Daniel J. Hogan is a geeky cartoonist and writer living in Michigan. Daniel is available for freelance writing and cartooning commissions (view his writing samples). This post contains affiliate links, unless it doesn't.
Follow Daniel
Facebook :: Twitter :: Google Plus :: RSS