Daniel has experience writing audio scripts, blogs, comic scripts, flash fiction, freelance articles, novels, short stories, and web content. He can write serious or silly, depending on what the project requires. When it comes to the silly side, Daniel can write humor for young readers, all-ages, or adults.
Daniel regularly writes posts for his Clattertron and Patreon blogs, in addition to writing all of his comics.
Freelance Article Samples

Scripts
Daniel wrote all of the audio scripts for the Magic of Eyri Podcast, and all of the comedy sketch scripts for Ginger and the Geek. When he records a screencast, Daniel writes the script as well. Daniel also write scripts for all of his comic strips.

Blogs
Daniel occasionally writes humor posts for Clattertron, and even has a feature called Amazon Enigmas, where he put a humorous spotlight on some of Amazon's quirky items. Other blog posts are listed as News.
Notable Humor and News blog posts for Clattertron:
Speaking of blogging, Daniel also taught an adult education class on WordPress and blogging for the Michigan State University Alumni Association Evening College.
Guest Blogs for other websites
Columns
Reviews

Novels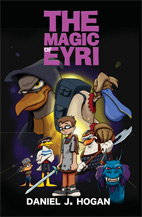 ISBN: 978-0615145280
The Magic of Eyri – A satirical fantasy novel Daniel wrote and self-published in 2007. Self-publishing a novel was quite the experience, as Daniel had to do all of the publishing tasks himself. This meant learning desktop publishing, including how to format a book for print, designing the front and back cover, and promoting the novel.
You can read the first four chapters for free.
In the spring of 2009, Daniel began producing a free audio podcast version of The Magic of Eyri, and  did most of the voice acting himself. Daniel would like to have the novel version republished by a traditional publisher at some point (after I give it another edit or two).
Riddle of the White Gun –  A humorous-spaghetti-Western-urban-steampunk-fantasy. Finished, but unpublished.
Em – A humorous sci-fi adventure set in an abandoned futuristic amusement park. Currently working on the first draft (October 2016).
Short Stories
Big Water (about 4,000 words, unpublished). A Lake Superior inspired horror about a podcaster experiencing  strange events in Michigan's Upper Peninsula.
~~~~
Slow and Steady (about 3,900 words, unpublished). A Steampunk retelling of the Tortoise and the Hare fable with anthropomorphic characters.
~~~~
A Queen's Tale (about 10,000 words, unpublished).  This story is a humorous retelling of the fairy tale, Rumpelstiltskin.  Written in First Person point of view, it follows the misadventures of Agnes as she rises from being a miller's daughter to Queen.
-
Daniel J. Hogan is a geeky cartoonist and writer living in Lansing, Michigan. Daniel writes and draws the weekly fantasy comic Foxes & Boxes for clattertron.com. Need a cartoon commission? Contact Daniel. This post contains affiliate links, unless it doesn't.
Facebook :: Twitter :: Instagram