Want Clattertron prints and merchandise?
You can buy prints of select Clattertron comic strips and merchandise through Daniel's Society6 store.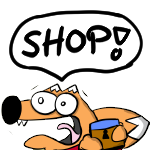 New prints and merch are added (somewhat) regularly, so keep checking back. If you want a print of a specific comic strip, contact Daniel and include the link to the comic.
Want original art?
Become a Patreon patron at either $5/month, $10/month, or $20/month level and Daniel will send you a piece of original art each month. You get a piece of fun art each month, and your money directly supports Daniel's licorice habit making comics.
Want to commission a watercolor cartoon or digital art?
Daniel is open for commissions. Contact Daniel for more information about commissions.
Want to read Daniel's novel?
You can also buy a copy of Daniel's fantasy-humor novel, The Magic of Eyri through Amazon or Lulu (he makes more through Lulu, but a sale is a sale).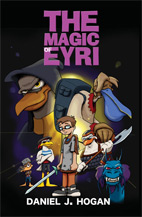 The Magic of Eyri is also available for download as a PDF eBook and an Apple iBook.
-
Daniel J. Hogan is a geeky cartoonist and writer living in Lansing, Michigan. Daniel writes and draws the weekly fantasy comic Foxes & Boxes for clattertron.com. Need a cartoon commission? Contact Daniel. This post contains affiliate links, unless it doesn't.
Facebook :: Twitter :: Instagram