Daniel J. Hogan is a cartoonist, podcaster, and writer living in Lansing, Michigan. Most of these skills are marketable or at least help fill out a bio.
When Daniel isn't snapping photos of his cats, he writes and draws the all-ages fantasy comic Foxes & Boxes on his website Clattertron. Daniel publishes a new Foxes & Boxes page each Monday, unless the voices in his head tell him to do otherwise.
Daniel writes blog posts for Clattertron as well, hitting on important topics like making comics, art supply reviews, and playing old video games.
Daniel won a 2015 SPACE Prize in the Webcomic Category, which means his wife has to confess she is married to an award-winning cartoonist.
In 2007, Daniel stopped playing video games long enough to write and self-publish his first novel, The Magic of Eyri (Amazon, Lulu), which his mother really enjoyed. Daniel then used all the skills he learned as a late-night college radio DJ to adapt The Magic of Eyri into an audio book podcast, made up of 53 free episodes.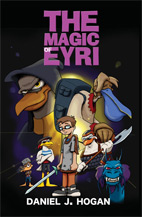 Daniel is available for freelance writing, art commissions, and public appearances before the next full moon. Contact Daniel
using this form
or send an old-fashioned email to
djh
[at]
danieljhogan
[dot]
com
.
You can follow Daniel and Clattertron on several social media websites, including Facebook, Twitter, and Instagram.
If you are hungry for even more Daniel J. Hogan offerings for some reason, become one of his patrons on Patreon. You can become a patron starting at $1 a month and get access to exclusive patrons only content. Higher level patrons unlock more rewards, like receiving original art from Daniel every month.
What is Patreon? Think of Patreon as PBS or NPR for Daniel's comics. You make a monthly pledge ($1, $3, $5, $10, or $20), and that money goes to Daniel. Even though Daniel's comics are "free" they do cost money (and time) to create each week. Any amount helps and is greatly appreciated!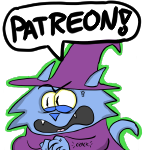 Support Daniel's Comics on Patreon and Get Rewards